ORIENTAL DANCE PRIVATE CLASSES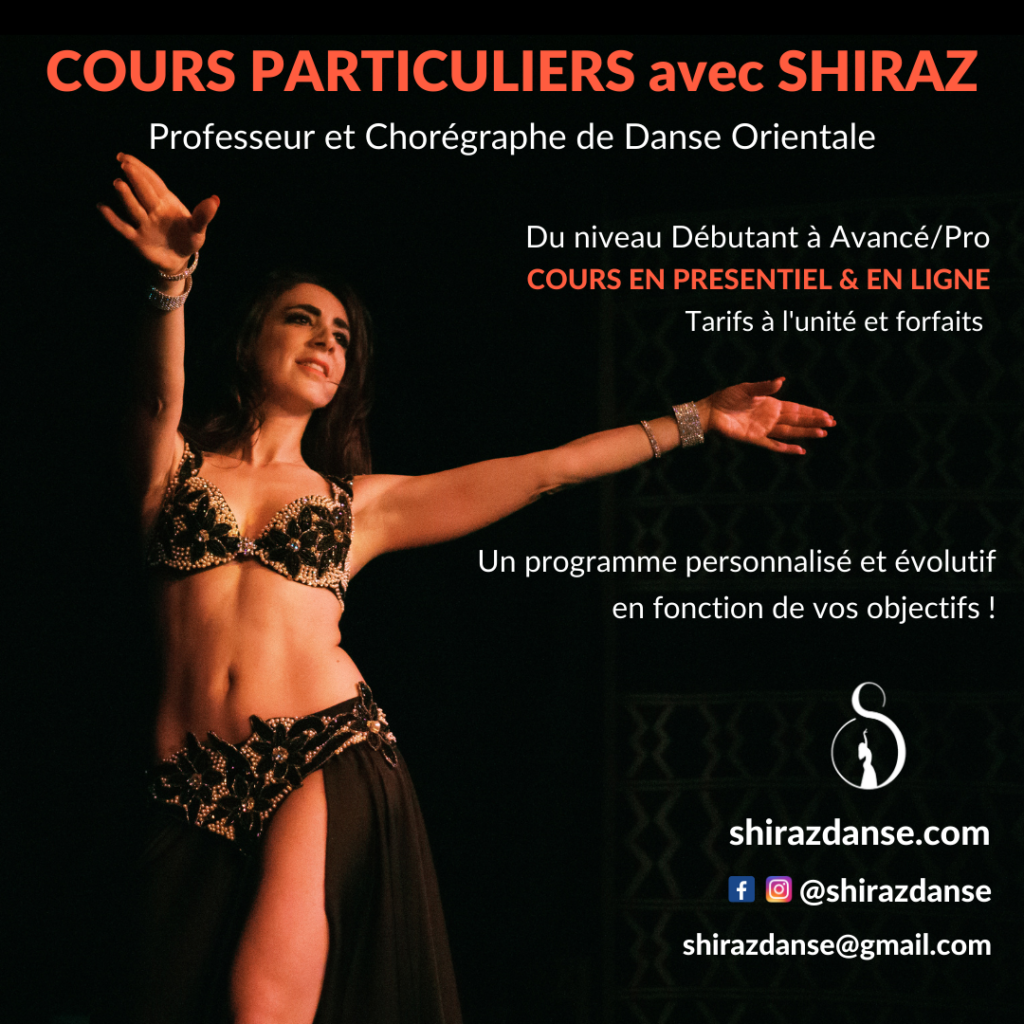 Shiraz has a passion for Middle Eastern dance since she was 4 years old.
She have been formed during several years with diferents dances such as Classic, Modern-jazz, Salsa, Samba and Oriental dance which she dedicates more than 17 years of training. Teacher and choreographer of Bellydance more than 15 years
Shiraz is graduate with International Certification of Bellydance and Anatomy for the movement She's member of the C.I.D (International Dance Council) and afiliate to the French Federation of Dance (FFDanse)
Since many years, she's she's invited to teach and perform in international events.
Learn in private Bellydance classes with Shiraz and discover it's teaching methodology focuses on the placement of the body weight and the structure imaged movements.
A pedagogy that allows each student to learn the technique and sequences so very accessible while developing the pleasure of dance, cultural knowledge and individual development in a friendly and joyful !
WHY TAKE PRIVATE CLASSES ?
Thanks to an adapted and personalized learning according to your level, the private lessons ensure you a rapid and targeted progress according to your objectives. Adapted to your schedule and your schedules, you benefit from the unique attention of the teacher to progress more quickly!
Level : Beginner to Advanced/Professional
Location of classes : Online via Zoom or in a Dance studio (additional rental) or at home (depending the location)
Prices : unit or package depending on the number of lessons – Payment by check, cash or SPORT and ANCV checks accepted.
SOME TOPICS
Intensive and specific technique according to the request

Learn to dance for the evenings (appropriate technique and gestures)

Improving your dances: power/fluidity/grace

Work on transitions and dynamism: slow/fast

Daily training

How to choreograph/improvise

Stage presentation: mental and physical preparation

Musicality – How to break down and read music

Recognize the different styles of Oriental Dances and Folklores
COMPLEMENTARY TOPICS
Become an Oriental Dance Teacher or Professional Dancer

Communication (website/visuals/social networks…)

How to choose and find music / Music cuts / Montages

Create Videos / Film / Cut and Edit Videos

How to create and organize courses…
How to wear ?
Leggings/Pants, with a crop top or close to the body
Bare feet or soft slippers
Feeling comfortable in your outfit is essential